Vila Valverde Design Hotel
Algarve
Boutique Hotels Hotels
Praia da Luz is a charming village turned resort, near to Lagos which is one of the most historicaly interesting towns in the Algarve.
Vila Valverde Design & Country Hotel is a charming and modern property located on the west coast of the Algarve, Portugal, between Praia da Luz and Lagos resorts.
What once was a manor house from the 19th century, located on a luscious green landscape overlooking the Atlantic, is now a design hotel, totally converted and enlarged in 2004, modern and contemporary, yet with a cozy ambiance.
Its 15 individually decorated rooms, ranging from 29 to 55 square meters, contain furniture of character, refined colors and modern design. Each one has its unique décor, but all have the same facilities: Air-conditioning, minibar, heated floor, satellite TV, telephone, Wi-Fi internet connection, safe, parquet flooring, bathroom with bath (incl. bathrobe, hairdryer and amenities), balcony or terrace. Room service from 7.30 a.m. to 11.p.m.
Breakfast buffet is served from 08 a.m. until 11 a.m. and if weather allows, the breakfast can be served on the outdoor panoramic terrace.
Inside Vila Valverde Design & Country, the guests have at their service a reception open from 07.00 a.m. until 11.p.m., panoramic terrace, breakfast room, a wine cellar and meeting room for small groups. Lounge/TV area, heated indoor pool (15x5m), sauna and massage service. On request the hotel provides special programs for its guests such as golf bookings, tennis, bicycle, leisure tours, horse riding, sailing, diving, surfing and car rental serviced by Europcar.
For the guests convenience, Vila Valverde offers a 'Owner's Bar' service where guests can help themselves with any of our selection of premium drinks; clients just have to register every item in the room account and pay during the check-out. Though, guests can always ask the staff for a drink, wine, or any of our tasty light meals or snacks.
Beneath the hotel main building, the 5 hectares of ground offer genuine nature, peace and quiet. They house an outdoor swimming pool, a mature population of olive and orange trees, biological gardening, its own spring, a lake and wide panoramic lawns.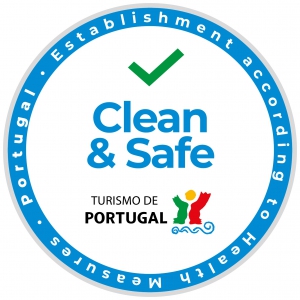 Best For Whom
Mature Travellers
Couples
Leisure Travellers
Best For What
Off The Beaten Path
Wedding
Luxury
Relaxation
Green