Share Algarve Digital Marketing Conference in Vilamoura, 2 and 3 February 2018
Editorial Press Releases
Use the My Guide Algarve promo code for a 10% discount on Share Algarve tickets
Share Algarve is back! The 2nd edition of the Algarve digital marketing conference takes place in Vilamoura on the 2nd and 3rd of February at the sumptuous Anantara Vilamoura Resort. The list of speakers is impressive, featuring several top international and Portuguese experts who will share their knowledge and expertise.
 
The 2018 edition of Share Algarve has built on the amazing success of Share Algarve 2017 which saw 350 attendees enjoy talks by over 30 speakers. This year's Share Algarve will run over 2 days, during which attendees will have the chance to learn, network and absorb knowledge. Reflecting the growing international profile of Share Algarve, the conference and all the presentations will be in English. The conference also has a promise of zero commercial presentations, focusing instead on sharing knowledge and insights during the panel discussions and Q & A sessions. Tickets for Share Algarve are available online. 
 
Use the My Guide Algarve promo code for a 10% discount: MYGUIDEALGARVE10SHARE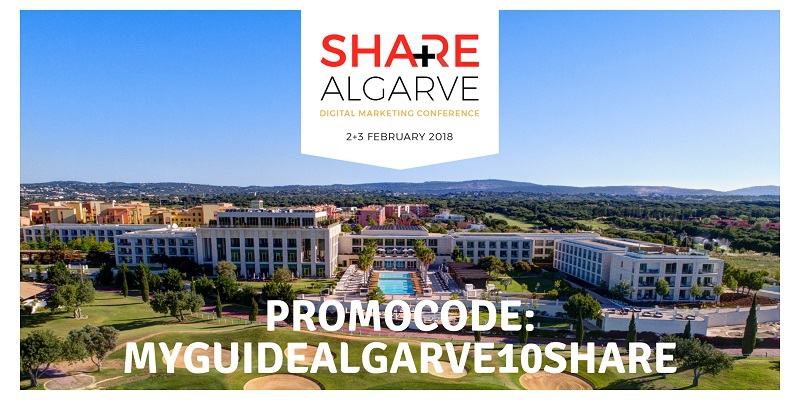 The aim of Share Algarve is to provide an immersive and collaborative arena in which knowledge can be shared. With speakers of quality and impressive professional experience, the conference provides an amazing learning opportunity for digital marketeers. While aimed primarily at marketing professionals, the conference will be invaluable to all interested in promoting their business, organization, charity. Whether you are dipping your toes in the waters of social media marketing and online promotion, or are a marketing pro, the learning and networking opportunities at Share Algarve are huge.  
Share Algarve is a local initiative with an international profile. Founded by Algarvians
Jorge Cabaço
and
Rita Sampaio
, both digital marketing experts, the aim of Share Algarve is to share knowledge to the benefit of all. This year's edition will be held at the 5* Anantara Vilamoura resort which boasts one of the region's largest conference centres. Share Algarve attendees have a 20% discount on accommodation at the resort during the conference.
Share Algarve 2018 speakers
The list of speakers and topics covered includes:
Dennis Yu
and
Logan Young
– an internationally recognized expert on Facebook marketing, Dennis Yu is the Chief Technology Officer at Blitzmetrics. He will share his insights on
how to work with the Facebook algorithm
in a joint presentation with Logan Young, co-founder of Blitzmetrics, keynote speaker and ad campaign expert.
Miklós Breitner
– author of the world #1  B2B golf business blog, Golf Business Monitor. Miklós will discuss the latest
golf marketing trends
, how technology can help golf resorts offer personalized services, as well as highlighting the importance of
influencer marketing
and leveraging authentic customer experience. An expert on the business of golf, Miklós has published several articles on golf in the Algarve on
Golf Business Monitor
.
Haroldo Sato
- Chief Operation Officer at Motion Sphere USA. Haroldo will discuss
Innovative Digital Marketing Activation using VR and Simulators.
Carmen Baptista Rosa
– A lawyer with PLMJ Advogados, Carmen's area of expertise covers Litigation and dispute resolution, contracts, international trade and business law. She will speak on implications of the new
General Data Protection Regulation
.
André Laurentino
- Global Executive Creative Director for Unilever – Ogilvy, this presentation will explain why relevance isn't enough and why
engaging with your audience
is vital.
Luciano Larrossa
(Facebook ad expert), 
André Novais de Paula
  (Director of Creative Strategies at Directimedia) and 
Frederico Carvalho
(digital consultant) will discuss innovation in social media.
Nuno António
(ITbase, expert in business intelligence), Elisabeth Fernandes (Data scientist – Publico),  Juan Pablo Correia (Algardata) will take part in the panel discussion on
Data Intelligence in Marketing.
The full conference schedule and list of speakers is available on the
Share Algarve website
.