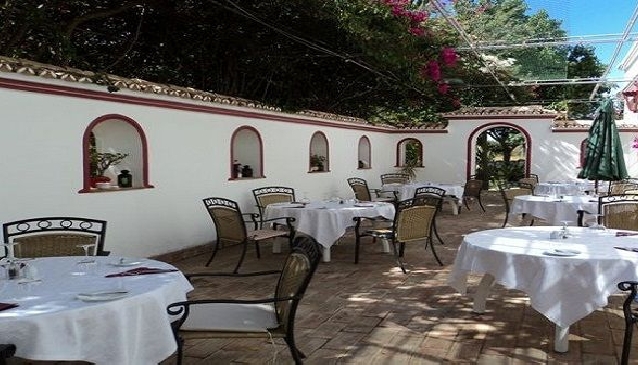 Al Fresco Frivolity
Food & Drink
Here, dining al fresco is a way of life
In England, come the slightest glimmer of sunshine and the cavalry of men charge outdoors eagerly waving their barbeque tools like twirling batons. Soon however, their inane grins turn to glum disappointment when, without fail, the rain, wind or hail comes crashing down like clockwork.
In the Algarve it's somewhat of a different story. A place where sunshine is pretty much a guaranteed glory for the visiting tourist, outdoor dining is much more than a mere moment of a crazed excitement. Here, dining al fresco is a way of life, beautifully blending with the relaxed Mediterranean attitude of the laid-back locals. Sitting on a soft patio chair with a chilled glass of white wine in hand as the wind whistles through your hair is a daily scenario for those seeking to soak-up the relaxed Algarve atmosphere.
However, with plenty of elegant outdoor dining to choose from it is easy to feel a little overwhelmed with options. Saving you from this state of confusion, our lovely local experts have selected some of their own personal favourite al fresco restaurants in Algarve. Here's just a few.
Sandbanks Fish & Seafood Restaurant- Overlooking the Vale de Lobo beach and the Atlantic Ocean, you couldn't ask for a better outdoor location. Enjoy a tasty seafood meal here amongst pink sunset skies and live music from the Praça.
NoSoloAgua Club Restaurant - A beach club beside the marina at Praia da Rocha, this al fresco option is deal for pool-side-menu-perusing. Serving traditional tapas, Mediterranean dishes and sushi alongside champagne and cocktails, NoSoloAgua has a proud party ambience that continues well into the early hours of the morning. Don't forget to check-out the Agua Beach nightclub…
Casa do Campo- Shaded by a 200 year old fig tree, Caso do Campo has one of the most beautiful garden patios in the Algarve. Hidden in the heart of the golden triangle, this charming restaurant serves up only the best traditional and authentic local recipes.
Casa Velha- Perched atop a hill overlooking Quinta do Lago lakes and golf courses, Case Velha exudes old-world charm and tradition. Originally a farmhouse, now a chic local restaurant, Casa Velha draws the crowds with its fragrant garden patio and fountain, not to mention its delicious French cuisine.
Vagabondo- During the summer months the courtyard at Vagabondo, Alvor, transforms into a cool oasis of lemon trees, olive trees and arbutus bushes. Choose from mouth-watering meats from the grill or a tasty selection of seafood.
Jardim do Vale - Renowned for its fine French cuisine and perfumed garden terrace, here you can enjoy chic cuisine amongst blooming bougainvillea and beautiful birdsong.
No Patio- Don't let the name fool you; this trendy restaurant in the centre of Lagos has a one of the most charming and relaxed courtyards in the Algarve. Originally a farmhouse and school, this vibrant restaurant serves-up interesting Portuguese dishes with imaginative flair.
Caniço- Carved into the face of a rocky cove, Caniço has an astounding outdoor setting where you can enjoy Mediterranean delights as you stare out to sea. One of the hottest summer spots for dining, the only way to access this beach-side cove is by a cliff-top lift! Al fresco at its very best if you ask me…