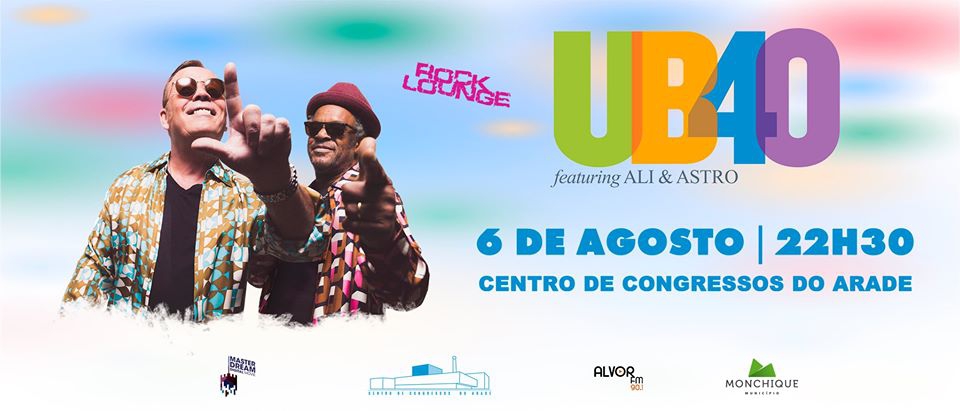 UB40 Concert - tickets and travel with PDM Travel
Take a break and come with PDM Travel to witness this historical moment!
Wed Aug 4th 2021
---
Rua Vitor Costa e Silva n.º15 Loja F

,

Lagos
https://www.myguidealgarve.com/events/ub40-concert-in-parchal-pdm-travel
---
PDM Travel
MAKE ENQUIRY
Event Details
Get tickets and transport to the UB40 concert in Parchal - Centro Congressos do Arade with PDM Travel.

Originally scheduled for 2020, the concert has rescheduled for 6th August 20201!

Enjoy this incredible concert with 2 of the founding members: 𝘼𝙇𝙄 & 𝘼𝙎𝙏𝙍𝙊 and sing dance along to all the greatest hits!

PDM Travel can arrange tickets and transport to the concert, including dinner before. Pick-ups at various points along the Algarve. Pre-booking is essential. Click the Enquiry button above or call +351 282 728 028.

Here's the programme:
August 6th board the bus and once we get to Parchal (Portimão) we'll go to the restaurant where we'll have '𝙁𝙤𝙤𝙙 𝙁𝙤𝙧 𝙏𝙝𝙤𝙪𝙜𝙝𝙩' with a glass of '𝙍𝙚𝙙 𝙍𝙚𝙙 𝙒𝙞𝙣𝙚' and if the glass is empty '𝘽𝙧𝙞𝙣𝙜 𝙈𝙚 𝙔𝙤𝙪𝙧 𝘾𝙪𝙥' and we'll refill it!

At the venue, our seats are on the '𝙃𝙞𝙜𝙝𝙚𝙧 𝙂𝙧𝙤𝙪𝙣𝙙' so you can see the whole stage and at 22:30h the show begins and you can start '𝙂𝙧𝙤𝙤𝙫𝙞𝙣' '! At the end of the show, it's time to '𝙆𝙞𝙨𝙨 𝙖𝙣𝙙 𝙎𝙖𝙮 𝙂𝙤𝙤𝙙𝙗𝙮𝙚' and make our way back home.

Come with us and don't miss this opportunity so you don't have to wonder '𝙄𝙛 𝙄𝙩 𝙃𝙖𝙥𝙥𝙚𝙣𝙨 𝘼𝙜𝙖𝙞𝙣'.

These and many more hits await you!

Special rates available soon!