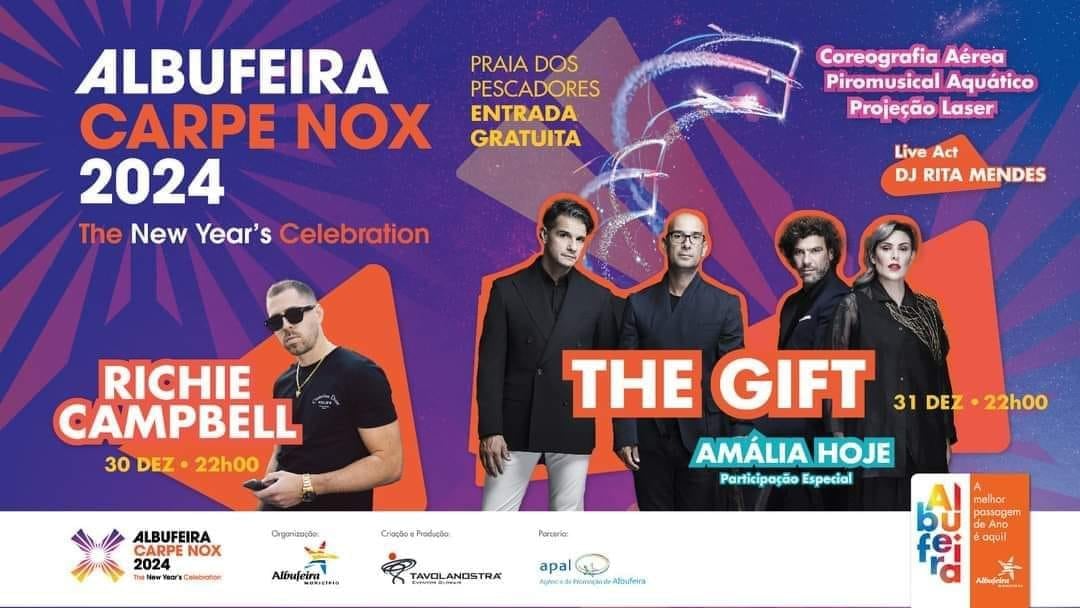 New Year's Eve in Albufeira, Carpe Nox 2023 /2024
The biggest party of the year!
Thu Dec 28th 2023 to Mon Jan 1st 2024
---
Algarve
,

Albufeira
https://www.myguidealgarve.com/events/new-years-eve-in-albufeira-albufeira-carpe-nox
VISIT WEBSITE
Event Details
Albufeira is famous for its New Year's Eve celebrations and for 2023/ 2024 'Albufeira Carpe Nox' promises to be bigger and better than ever! Fireworks, aerial acrobatics, an amazing sea and sky laser show, an international Street Food Festival, fabulous concerts and DJ sessions on the beach, plus Paderne Medieval Fair. Don't miss it!

One of the best events in Europe, Albufeira has another spectacular New Year's Eve programme for New Year 2023 / 2024. From 28th Dec. to 1st Jan, there will be concerts featuring The Gift and Ritchie Campbell, street entertainment, pop-up art, street food, and of course, the massive and unique party on the beach and interactive show on 31st December to welcome in the new year.

Albufeira Carpe Nox - 31st Dec. 2023 - Praia dos Pescadores
Free Entry
Carpe Nox is where the sea, the sky, the beaches and the people come together to embrace a fabulously creative, immersive and entertaining spectacle.
The huge stage - 55 metres - on Praia dos Pescadores with mesmerizing multimedia displays welcomes Portuguese band The Gift, and a special performance from Amália Hoje.
The countdown to midnight and the new year will unleash the unique Carpe Nox show. There will be stunning fireworks, aerial acrobatics, a laser light show on sea and sky, and a specially created and interactive soundtrack.
The party continues into the early hours of 2024 with DJ Rita Mendes on stage.

Street Food Festival - 28th to 31st Dec. - Av. 25 de Abril
Adjacent to Praia dos Pescadores (Fisherman's Beach), you can sample a range of tasty dishes from around the world, from Morroco to Japan, to Portugal. Diverse, delicious - perfect food on the go.

Ritchie Campbell Concert - 30th Dec. - Praia dos Pescadores
Free Entry
From 10pm on the 30th Dec. Ritche Campbell will be on stage. Set on the beach with the ocean in the background, get ready for a fabulous live performance.

Pop Art Parade - 1st Jan 2024 at 00:30h - Av. Sá Carneiro, Oura
Just after midnight, the Pop Art Parade promises to bring art, colour, music and dance to the streets.

Paderne Medieval Festival - 29th Dec. to 1st Jan.
Albufeira Carpe Nox programme also includes the fascinating Medieval Festival at Paderne. From 29th Dec. to 1st Jan. Paderne steps back in time to the 14th century, with medieval markets, music, troubadours, knights and historic re-enactments and jousts.
Find out more about Paderne Medieval Festival

Guide to Albufeira
Coming to Albufeira?