Event Details
Fatacil is the largest general fair in the Algarve and one of the largest in the country, with a wide range of goods and local produce for sale, great food to eat, kids entertainment and live shows by top artists every day.

The fair is in its 40th year and continues to attract tens of thousands of visitors from all over Portugal, the rest of Europe and beyond. The event guarantees diversity - there's something for everyone in the Fatacil's 50 thousand square metre exhibition area.

The fair runs for 10 days - 16th until 24th August - at the Fatacil Showground in Lagoa and offers arts and crafts, gastronomy, agriculture, commerce and industry, and more. One of the highlights of the event is an impressive concert programme, featuring top class national artists. There's also an excellent equestrian programme.

Popular Fado artist Mariza will be returning to the FATACIL stage this year, along with other top artists such as Blaya and Matias Damásio.

THE FULL LINE UP!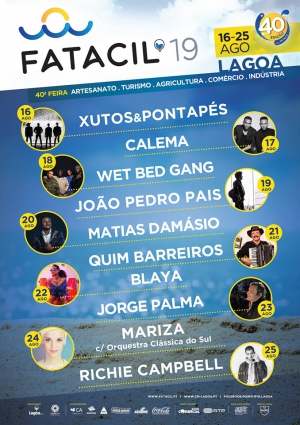 PRICES
Daily ticket - 1 person - €3.50
Daily family ticket (4 people) - €12.50
10 day ticket – 1 person - €20.00
Buy online

For more information visit the website.